It's 2023 and while the censorship in China still somewhat appears as a hindrance in further producing more danmei stories in Chinese animation or donghua, it feels amazing that we are still able to get a look at the genre from the perspective of an outsider.
I must say that my journey into Chinese animation had been predominantly influenced by BL donghua since they had been extremely popular especially from 2018 until 2020 when I felt like there was a huge surge in the production of danmei in Chinese animation which later on subside as the censorship tightened. In fact, I felt bad that since 2022 we rarely get updates about the productions of the previously announced BL donghua but we can only keep our heads up high and expect something good to be announced sooner or later.
Nevertheless, if you think that you have watched all the Chinese BL anime so far? Then, why not scroll over our donghua BL list below and see for yourself if you truly have watched them all. Otherwise, I am excited to share that there's more to danmei in Chinese animation outside the shadows of popular shows that often comes to our mind if we talked about bl donghua.
Chinese Danmei Anime List
Grandmaster of Demonic Cultivation (Mo Dao Zu Shi)
Alright, it is a no-brainer since everybody might have watched this BL donghua already but I am putting the Grandmaster of Demonic Cultivation first in the list as it should be since I think that it is a rite of passage for all donghua fans to check out this masterpiece. This donghua about two old frenemies has captivated us
all and brought forth so much popularity for the danmei genre in Chinese animation since it first aired in 2018. Do you like sword fights, exorcism, martial arts, and cultivation cliches? Then, this one is your first choice.
Spiritpact (Ling Qi)
Here comes another donghua about exorcism and probably one of the most heartfelt supernatural rides we could ever have from a Chinese animation. Spiritpact was one of the first Chinese anime series to gain international recognition and popularity, particularly in the BL (boys' love) fandom. The series was praised for its unique storyline, dynamic characters, and beautiful animation.
Scumbag System
Another Chinese BL anime adapted from a novel by Mo Xiang Tong Xiu, the author behind the Grandmaster of Demonic Cultivation. Aside from being a danmei story, Scumbag System is also an isekai where the MC
was transmigrated inside the novel he read and possessed the body of the villain. Now, he must do everything to avoid meeting the horrible demise of that character.
Antidote (Jie Yao)
Particularly, this donghua is not a hardcore BL but inclines more to the bromance side of the spectrum and this had been one of my all-time favorite Chinese anime. Antidote is a story of two young men who are struggling with their inner demons and circumstances, and they find solace in the presence of one another despite their differences.
Heaven Official's Blessing (Tian Guan Ci Fu)
Now, let's proceed with the cream of the crop among BL fans. Heaven Official's Blessing is another donghua from the author of the Grandmaster of the Demonic Cultivation, and probably the gayest of all the donghua in this list. Well, I think that simply further adds charm to its story which portrays genuine affection and an emotional ride that transcends all the other BL donghua out there.
Legend of Exorcism (Tian Bao Fuyao Lu)
Here is another BL donghua that deals with exorcism and while the gay part can be subtle, we sure know that it displays passionate affection that builds up among the hearts of the young warriors in this donghua.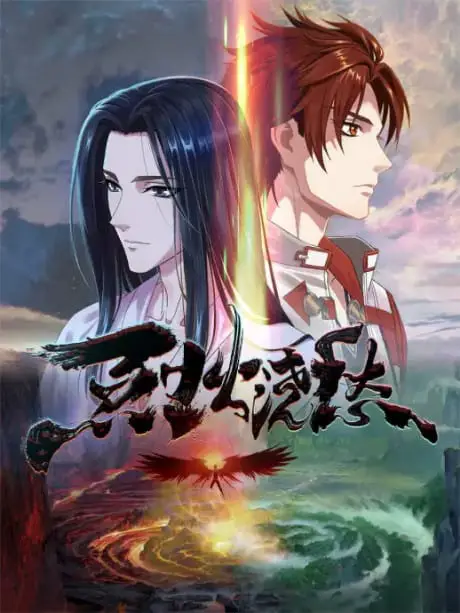 Another donghua with a subtle BL plot, Drowning Sorrows in Raging Fire is an interesting ride for those who enjoy a mystery-crime story with a twist that involves exorcism and supernatural antics.
Thousand Autumns (Shanhe Jian Xin)
Well, this donghua that explores cultivation and the morality of the martial arts world has been one of my favorites. It does not directly depict the special bond between the MCs but it sure connotes through their interactions that usually send us mixed signals. It is adapted from a Chinese BL novel by Meng Xi Shi.
The Emperor's Strategy (Diwang Gonglue)
Another historical BL donghua that I think people should start watching as it is often overlooked by many viewers. A story of friendship between the emperor and his close friend, who always helped him in any way possible.
Look, I Can See Your Ears! (Wei, Kanjian Erduo La!)
This adorable donghua is a must-watch if you simply want to have some relaxing moments and enjoy a good chunk of humor and romance. The anime combines elements of comedy, romance, and supernatural genres. "Look, I Can See Your Ears!" has been praised for its unique concept, vibrant animation, and charming characters. It's an entertaining and lighthearted watch that appeals to a wide range of audiences.
The Chronologist (Li Shi)
An emotional ride that features good drama with interesting
characters. People often overlooked this because of its short run and
limited available streaming options for non-Chinese viewers. It
follows the story of a young man who takes on the job as the Chinese
Almanac Master and has to deal with various gods that oversee certain
seasons of the Chinese calendar.
The Land of Miracles (Shen Lan Qi Yu Wushuang)
From the author of Soul Land, this new donghua in 2022 is a huge surprise and it brings a fusion of cultivation and martial arts together with the bromance of two young men from different races.
Berryl and Sapphire (Xiaolü He Xiaolan)
Another adorable BL donghua in this list is Berryl and Sapphire which is adapted from a popular manhua by Ocarina. The donghua depicts their hilarious and adorable interactions as close friends, and at times, as worst enemies.
The Defective (Can Ci Pin: Fangzhu Xingkong)
From the same author as Drowning Sorrows in Raging Fire, The Defective is adapted from a novel by Priest. This sci-fi BL donghua will bring us on a futuristic ride with two men with different personalities in a quest to fight against destiny and the unjust world they lived in.
Are You OK? (You Yao)
We have another Chinese isekai anime on the list and it features mild BL that gives us an interesting ride, in fact, its source material features more BL stuff than what we can imagine from the current donghua. Well, it feels like a portal anime with a plot that is inclined more toward the political side.
Epic of Divinity Light (Dinghai Fusheng Lu)
The prequel to Legend of Exorcism took place 500 years earlier. We still have handsome men fighting demons and supernatural creatures but this donghua also tackles the political environment at that time in Ancient China. Although I felt that it is quite discreet than Legend of Exorcism when it comes to the interactions of the characters.
Stars Fall (Ni Zai Xingguang Shenchu)
Alright, so here's a donghua BL from Wawayu Animation, the studio behind Cinderella Chef. This series offers action and drama which were beautifully combined with mystery and sci-fi vibes.
Upcoming Chinese BL Donghua
Meanwhile, we also have here all the upcoming danmei donghua that hasn't aired yet but have been officially announced by their producers as follows:
Warm Sun (Nuan Yang) / SAYE
Silent Reading (Mo Duzhe)
The Revitalization of the Fuyao Sect (Liu Yao)
The Defective Lovers (Daihao: Juangxin)
AWM: PUBG Mobile (AWM: Jixian Juji)
Dragon in Distress (Aoao Dai Bu)
Ming Wang Huan Shi Lu