After the successful stint of the series in 2020, Heaven Official's Blessing Season 2 has been highly awaited by many donghua and danmei fans all these years. Finally, almost 3 years later, an update is scheduled to be released about it by its production committee this October, triggering many fans to think that Heaven Official's Blessing Season 2 might be released this fall.
Heaven Official's Blessing Season 2
The announcement about Heaven Official's Blessing Season 2 was made during the 2021 annual event of Bilibili where the show was one of its top sequels to return along with the likes of Fog Hill of Five Elements Season 2, A Record of a Mortal's Journey to Immortality, The Daily Life of the Immortal King Season 2, and Fairies Album.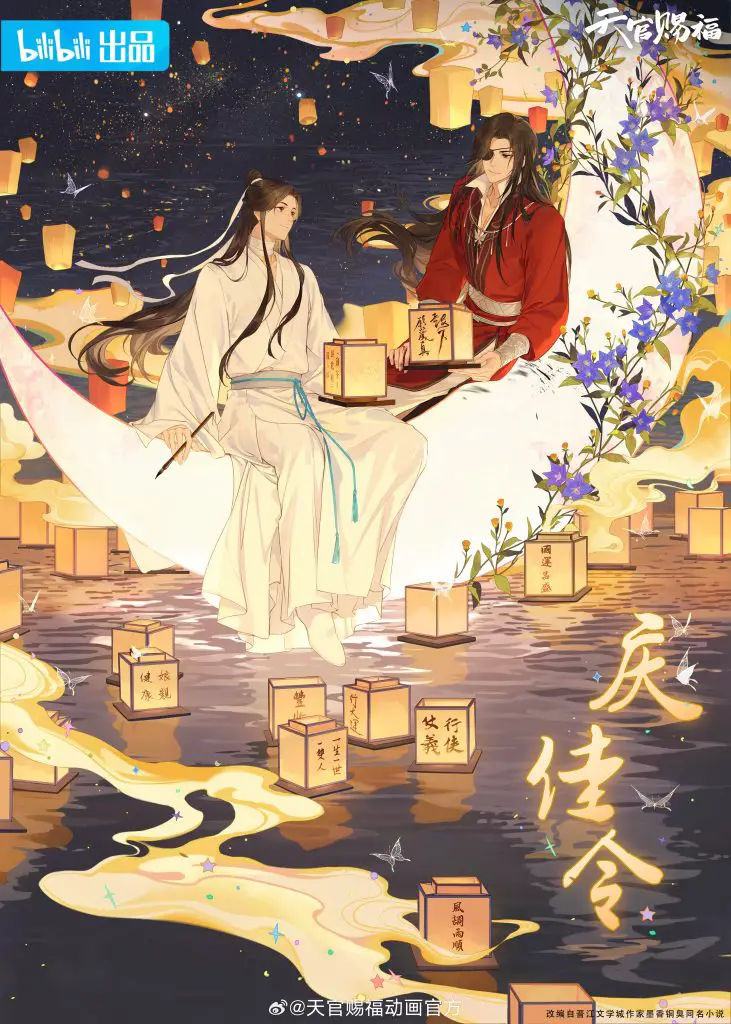 However, 2 years had passed, and no new updates had been revealed. Heaven Official's Blessing wasn't even included in the lineup unveiled by Bilibili during their 2022 event. Hence, fans seem to be afraid that the series might have been canceled, especially during the BL drought that happened these past few years due to strict censorship in China.
That is why, fans had been relieved and excited after learning that a major update is due for announcement this October. A befitting hype for fans to have because Heaven Official's Blessing is one of those few Chinese anime series that were able to transcend boundaries and capture the hearts of many fans from all over the world. It was even dubbed in Japanese and English which further expanded its target audience aside from the casual donghua viewers.
The announcement about the update was unveiled on August 22, 2023 – when a new poster and promotional video for Heaven Official's Blessing Season 2 was revealed, that is during the celebration of the Chinese Valentine's Day.
What to Expect in Heaven Official's Blessing Season 2?
Red Dog Culture is the new animation studio for Heaven Official's Blessing, They are the team behind the 2023 animated adaptation of the Korean webtoon – The Girl Downstairs, which was received with a positive reception by viewers due to its nostalgic yet contemporary and modern feels.
Heaven Official's Blessing Season 2 as shown in previously released promotional videos will feature Xie Lian's visit to the domain of Hua Cheng. Furthermore, the conspiracy of heaven simply continues with our favorite duo being caught in the middle of it. Will their love and devotion transcend all these adversaries? That is what we should all look forward to in the upcoming return of the series.
The events at Half-Moon Pass have come to a close, and Xie Lian has been summoned back to the Heavenly Court by the God of War, Jun Wu. However, he unexpectedly learns that a divine official near the Ghost City is casting a spell for help. The current owner of the Ghost City, "Blood Rain Seeker Flower" Huacheng, is none other than the Red-Clothed Youth San Lang, who abruptly departed seven days ago. With many suspicious elements surrounding this matter, Xie Lian volunteers to investigate it secretly and is accompanied by Wind Master Qingxuan and the Eastern Martial God Lang Qianqiu as they seek the truth in the Ghost City…

Source: Bilibili, translated
The adventure, drama, and romance donghua is adapted from the danmei novel by Mo Xiang Tong Xiu, the creative mind behind popular BL stories like Grandmaster of Demonic Cultivation (Mo Dao Zu Shi), and Scumbag System – both were also adapted into donghua, and together they were known as the MXTX Boys-Love Trinity.